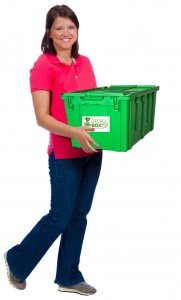 Geckobox Plastic Removal Crates features include:
• LOCKABLE
• TIME SAVING
• CONVENIENT
• ECO-FRIENDLY
• CUSTOM TROLLEY
• STRONG & SECURE
• HANDLES FOR EASY LIFTING
WHAT ARE GECKOBOXES?
GECKOBOX is a South Australian and Adelaide owned and operated business that offers a hassle free, eco-friendly plastic removal crates as an alternative to cardboard moving boxes.
Unlike traditional moving boxes GECKOBOXES require no construction, are lockable, have handles for easy lifting and come with a custom trolley system so you can move the boxes easily around your house or business. Best of all when you are finished we come and collect them so that they can be reused.
We offer friendly same day or next day delivery throughout the Adelaide metropolitan region.
WE CAN MAKE MOVING EASIER FOR YOU!
ENVIRONMENTAL BENEFITS
By hiring GECKOBOXES when you move house or business you eliminate any occurrence of your moving boxes ending up in landfill after you have finished with them.
If you are really interested in reducing your carbon footprint when moving, get a JUNK BIN and we will help you recycle any unwanted items.
GECKOBOXES PLASTIC REMOVAL CRATES ALWAYS ARRIVE ECO-CLEANED ON YOUR DOOR STEP!